Big Bad Wolf Kids, a street-inspired clothing for unordinary kids ages 2-10. Big Bad Wolf Kids is the only children clothing company who brings together renowned artists and brands from all over the world. Because of my love for art and collaborations and best of all, created in Hawaii, Big Bad Wolf Kids is pretty much the only gear my boys sport. I'm not worried when my boys get older because the unique brand branched out into adult sizes!
If you're out in Honolulu, Big Bad Wolf Kids HQ is located at South Shore Market located in Honolulu and available to purchase 24/7 globally online.
I was super stoked when my boys were lucky enough to be invited by Amy Wong, the mastermind behind Big Bad Wolf Kids, to a private event she planned and produced for Puma on July 24, 2017 located at Au Fudge.
Right when we entered, my boys went straight to the table full of markers and crayons and they created away! The event included art party decor by Amy's husband, Jasper Wong (I kinda wanted to stash a table cover in my purse to take home, LOL). The boys and other kids used their creative minds to design their own shoes using a blank Puma classic kicks. The Artists like Jasper Wong and Yoskay Yamamoto helped mentor the creative kids as well. Yummy kiddie finger foods were provided by Au Fudge and all the kids received awesome goodie bags from Puma and Big Bad Wolf Kids!
See photos after the jump...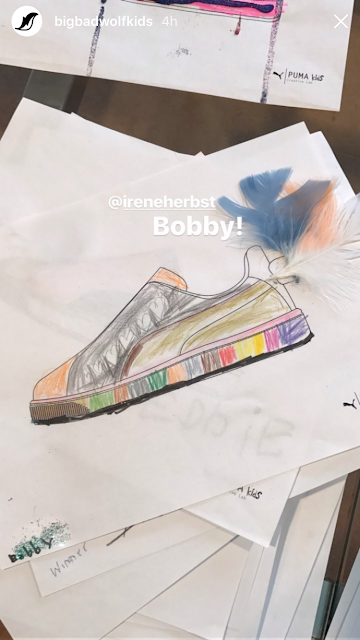 Above photos by Irene Herbst.
Boys love anything arts and crafts. We cannot wait for another art adventure!